Last weekend I immersed myself in the Virginia Festival of the Book. I'm fortunate that the festival takes place right down the road, and I took full advantage of my proximity to hit up as many panels and events as I could. My weekend started with a panel on world-building in Science Fiction and Fantasy, and continued with panels on Diversity in Publishing and Fantasy/Intrigue in YA. I wrapped it up with an agent panel, where I gathered some excellent (if sometimes contradictory) advice on the process of securing an agent.
My two favorite events were the Diversity and the YA panels. I took my oldest daughter to the first one, and she patiently hung out while I took notes, which earned her two books (ok, three books) which we had the panelists sign afterwards. One of the books is titled "Flying Lessons and Other Stories" and it is a collection of short stories written by diverse authors. Two of the panelist wrote stories in the book, and the third panelist, Ellen Oh, was the editor and the founder of "We Need Diverse Books" whom I have followed for a while now.
Here's L with the panel:
I also had a fantastic time at the YA panel and got to speak with all four panelists afterwards.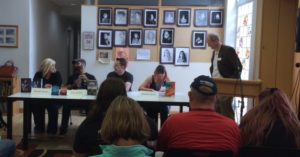 Branda Drake is an author and the creator of a number of writing contests such as #pitchwars and #pitmad which I mentioned in my last post. Eric Smith is an author and agent whom I've followed on twitter for a while- he gives excellent advice for aspiring writers and has a really cute corgi with his own twitter account. Shaun David Hutchinson is a writer whose book, "We Are The Ants" is one of the best I have read. I might have gushed just a little when I got my copy signed, but I don't think I made a total idiot of myself. Whew. The fourth panelist, Jennifer Brody, is an author I wasn't familiar with before the panel, but I had a great chat with her about writing, dystopias, Star Trek, and Anne McCaffrey's non-fantasy dragons (See guys, I told you AM's dragon books were sci-fi, not fantasy! Jennifer's with me on this!) and I ordered the first book in her series, the 13th Continuum which I'm very excited to read.
The best part of the weekend, however, might have been how, every time a panelist said some variation of "If you're a writer," Lyla leaned over to me and hissed, "like you!"