(Simple text Google Doc Version available HERE)
BUT FIRST, WHAT IS PITCHWARS?
Pitch Wars is a mentoring program where published/agented authors, editors, or industry interns volunteer as mentors (that's us!) and then each mentor or co-mentor pair chooses one writer (that could be you!) and spend three months helping them revise their manuscript. It ends in February with an Agent Showcase, where a pitch/first page is posted online and literary agents can request to read more. If you're new to PitchWars or want more information, check out the website: www.pitchwars.org.
Note: PitchWars is not a promise that mentees will get offers of representation, nor is it a paid service (no one pays or gets paid!), or an automatic golden ticket to authorial stardom. Okay, now that we're super clear on all that…
MEET LAUREN AND EMILY:
Hi, I'm Emily! This is my second year as a PitchWars mentor and I had such a great time mentoring last year that I'm back and teaming up with my editor-sib Lauren Blackwood to mentor Young Adult (also accepting NA)
Fun fact: My 2020 mentee, Lyssa Mia Smith, is also a YA mentor this year!
I was a PitchWars mentee in 2017, an Author Mentor Match mentee in 2018, and in 2019, I wrote and queried yet another manuscript before signing with my wonderful agent, Chelsea Eberly of Greenhouse, and my debut YA Fantasy duology comes out next June with Wednesday books!
This Vicious Grace features a divinely-chosen savior doing a terrible job, a grumpy bodyguard determined not to laugh at her dirty jokes, and more banter than I ever dreamed they'd let me publish.
THE Tamora Pierce calls it:
"Riveting, passionate, and full of high stakes danger"
It's the fantasy/ disaster movie/ RomCom mashup of my heart, and you can add it on GoodReads HERE or find pre-order links HERE
In addition to writing, I'm also a co-host on the Basic Pitches podcast, a mom of two, twitter-addict, former teacher, cat-rescue volunteer, and board member with Writer House, a central VA writing non-profit. I grew up in New Jersey before moving to Virginia, so I talk fast and wave at strangers!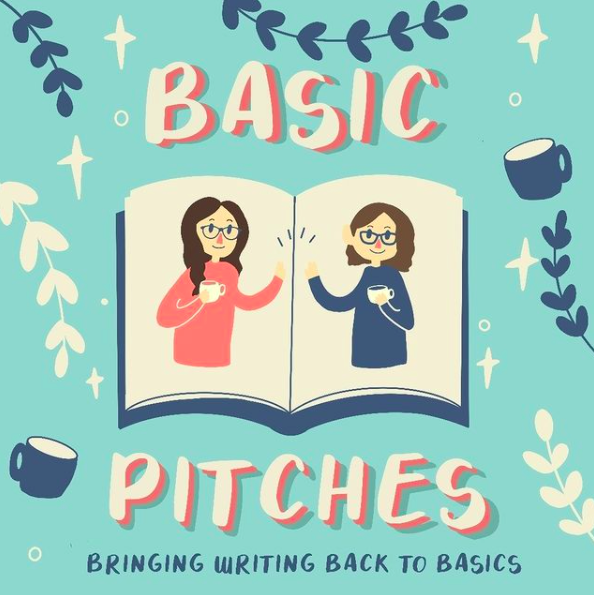 Hey, I'm Lauren, co-mentoring YA with Emily this year! My debut YA Fantasy WITHIN THESE WICKED WALLS is a gothic Ethiopian-inspired Jane Eyre retelling about an under qualified debtera who gets in over her head when she's hired by a moody young heir to cleanse the Evil Eye from his secluded, cursed castle.
This book has everything–creepy vibes, banter for days, a grumpy mentor with a drinking problem, and SO MUCH KISSING. It comes out October 19th, 2021, and you should totally check it out HERE
After writing a handful of what I'll call "practice manuscripts" I got an offer from my agent, Lauren Spieller, in 2019 (on my birthday of all days! Best birthday ever!). After some revising we sold WTWW to Wednesday Books in 2020.
It's been a lot of fun being editor siblings with Emily, especially since it's clear we have the same taste. When I'm not writing, I'm a musician, and am such a kindred spirit with Emily that I am also a twitter-addict and a northerner moved to Virginia (New York, baby!).
WHAT OUR MENTEE CAN EXPECT FROM US:
Writing is personal, so we'll always strive to be sensitive and considerate in our feedback. We don't think critique must be harsh, but we won't hesitate to point out issues (while suggesting possible solutions!) Our feedback will be direct, thorough and we will encourage our mentee to challenge themselves.
We'll do two passes of your manuscript. For the first, we'll provide an edit letter (which will be long, because Emily is wordy) and in-document comments with lots of exclamation points. We'll be specific about areas we think could be stronger, explain our reasoning and offer suggestions, but in the end, it's your book and our role is to help you make it the best version of what you want it to be. Together, we'll discuss a revision plan, including a rough timeline for the various stages, and your preferred style of communication.
We'll read again after that to make sure the changes are working, send suggestions for final clean-up edits before the showcase, and help with line-edits as time permits. We'll also assist with a query letter, synopsis, and pitch for the agent showcase.
We can communicate as little or often as you need, but while we love to collaborate and are up for some hand-holding, we both have deadlines of our own, so there may be times where we can't promise instant access. Which leads us to…
WHAT WE EXPECT FROM OUR MENTEE:
While many writers hope PitchWars will propel them to instant-stardom, that really isn't the best reason to enter. (Emily wants to emphasize that PitchWars wasn't her golden ticket to an agent/book deal which took two more years and two more books, but it definitely improved her craft and introduced her to an incredible writing community!) With that in mind, we'd like a mentee who willing to work and be a positive (or at least not negative) member of the community.
Mentees are in Pitch Wars to improve their skills, so we hope our future mentee enters the process with an open mind and a willingness to truly consider feedback, even if it feels daunting. (For advice on handling an edit letter, click HERE!).
We do not expect our mentee to agree to suggestions that don't ring true, but we do expect them to be open to critique, willing to consider suggestions, and committed to putting in the work. Being a mentee is excellent practice for working with an agent or editor, and that means being respectful and open to making changes, while also learning how to hold firm to your vision.
WHY YOU SHOULD PICK US!
We're FUN! The two of us connected last year after the illustrious Pitchwars queen Ayana Gray read each of our debuts and said, "You two really need to be friends" and she was totally right! Since then, we've been shrieking in each other's DMs almost daily, and entertaining our shared editor by planning fictional double-dates for our respective main characters on twitter when we're supposed to be writing. We'd love to welcome a new writer into our world of gifs and risque jokes and we hope to make the PitchWars experience fun as well as enlightening.
We share a lot of strengths (our banter game is A+ and we both know how to build tension and finesse pacing) but we also have complementary strengths! (Emily is a boss at cutting words and paring prose–see this blogpost for some tips– and Lauren is fantastic at identify areas that need to be developed and knowing where to add words for maximum impact!)
We've learned from the best and we give 100%. We both have experience querying multiple books so we've honed those skills, and we both work with wonderful agents who sold our debuts in pre-empts to the badass editor responsible for bringing books like Where Dreams Descend and Red White and Royal Blue into the world, so we've been incredibly fortunate to learn from some truly amazing publishing minds.
If that isn't enough to convince you, Emily has been called the "Fairy Godmother of Revision" by critique partners, and she's pretty sure she was an editor in a past life. We love studying craft and we want to teach our mentee all the ways to capture a reader's attention and keep them invested.
We are great at:
-Character development/dynamics: We love developing tension, shaping character arcs, and creating characters who feel like they could step off the page. We have a lot of fun (too much fun??) with romantic pairings especially, but those skills apply to other character dynamics as well, and we both feel that compelling characters are the true heart of any story.
–Dialogue: Well-crafted dialogue can accomplish as much with action tags, pauses, sentence structure, and words left unspoken as it can with what is spoken aloud, and we can help you take your dialogue skills to the next level.
–Pacing: We're both pansters by nature, so we've learned how to use story maps and beat sheets to guide our revisions and to outline future books in partnership with our agents and editor, so we can help regardless of which approach our mentee takes. Plus, we know how to use tension, dialogue, humor, and setting to improve pacing, so we're less likely to say "just cut all these scenes" and more likely to suggest ways to make the scenes you love feel more compelling.
Emily's been a mentee, so she understand the highs and lows, and is ready to guide you through it all. She's ready to work with you to figure out how to make this the best experience for you.
Lauren kicked butt in online pitch contests so she knows how to craft a compelling pitch that highlights the hook of your story, and she's great at giving direct, honest feedback to help you make your work stronger.
In addition to providing an edit letter and helping you with your pitch and query, we'll provide resources, give you the inside publishing scoop, and be a listening ear when you need to vent. We know what it's like when the path to publication takes a few detours on the way, and we're ready to support you on your journey.
OUR WISHLIST
Okay, we know why you're all really here, so let's do this already! This year, we're accepting YA (and NA if you're open to making adjustments that would help it fit into the YA crossover market.)
Both of our debuts are fantasy novels with romantic subplots, and we're looking to mentor a book in the genres below that also has romantic elements (bonus points for a slow burn that makes us scream, "Just kiss already!") So, ideally we'd like a high-concept story with some romance but where the stakes are higher than simply "will they or won't they."
Fantasy: High/Epic, Portal, Urban/Contemporary, Magical Realism, Paranormal, Historical, Alternate History
No surprise there!
We love fantasy with compelling, complex characters and fresh world building, where there's a romantic element AND external stakes. Characters falling for each other (or trying not to) as the world burns? Heck yeah! And we really enjoy stories that combine elements from multiple genres. Fantasy thriller? Fantasy mystery? Fantasy RomCom? Yes, please!
Note: We tend to prefer stories where we can get really invested in a central group of characters, rather than a sprawling cast of thirty warring families and twelve kingdoms, so if your book has a cast to rival Game of Thrones, we might not be the best fit.
Science Fiction: Soft SciFi, SciFi Romance, Space Opera, Near Future, Dystopian/Post-Apocalyptic!
Space! Fantastical planets! Near-future Earth settings! Cool tech and their inevitable disasters! Dystopian worlds! Yes to all of of it!
We prefer SciFi that is more "accessible/ grounded (not literally— space is cool!) because we want to be able to connect with a character pretty quickly and we need to be able to grasp the basic gist of their world without needing a story almanac or a bunch of family trees to understand what's going on.
Note: We're not the best fit for military scifi or lots of time travel. A hop back in time a la Outlander is fine, but too many timelines make our heads hurt!
Adventure: A gender swapped The Mummy, YA Armageddon, or a field trip that turns into Speed 4? Yes! We are here for regular teens thrust into sudden peril, or young adults tackling their lifelong dream of a death-defying mission! Give us all that action, tension, and excitement!
Retellings: Lauren's debut is an Ethiopian-inspired Jane Eyre retelling, so of course we love new twists on a familiar tale, especially if there's a speculative element! We're not the best fit for purely contemporary, real-world re-tellings, but if your Hamlet is a mermaid-hunter, or your Rapunzel has hair that kills instead of heals, hello, over here!
WHAT WE REALLY WANT
Okay, so now you know the genres we're accepting, but what do we REALLY want to see within those categories? (This is the part where Emily adds gifs from our favorite movies.)
WE LOVE: character-driven, high-concept, fresh, immersive settings, and gorgeous writing. Plus, Lauren is Jamaican-American and Emily has ADHD so we are always excited about diverse casts and marginalized authors of all kinds, including but not limited to those who are BIPOC, LGBTQIA, disabled, and neurodiverse!
Excitement, tension, romance, humor! We want ALL the FEELINGS! If you can make us laugh, cry, bite our nails AND swoon, we're hooked! So, if your manuscript combines some (or all!) of the following elements, WE WANT IT!
Escapism: we love a story/concept/setting that carries us away from the ordinary. SciFi and Fantasy obviously fit this, but we also like stories that *could* happen in the real world, but that most people could never experience, like being a bounty hunter, searching for lost treasure, or a hands-on internship at the CIA. The setting can be bright and beautiful or dark and gritty, as long as it's interesting! Sweep us away to a whole new world and/or make me say "Oooooh, we wonder what that would be like!"
Humor: Not talking about corny jokes or slapstick absurdity, but if you pair a speculative premise with the kind of snappy dialogue and witty banter found in books like RED WHITE AND ROYAL BLUE, SERPENT & DOVE, or BEACH READ, give it to us right now, please and thank you!
Tension: Wether it's rivals forced to work together, enemies to lovers, or a motley crew of strong personalities vying for position, we love books with interpersonal tension, so if you've got it and you want to learn how to develop more of it, hand over that manuscript!
Romance: Slow burn, enemies to lovers, opposites attract, friends to lovers (especially if they delight in tormenting/teasing each other), love at first sight (but with serious issues)

John and Jane give each other come-hither looks
Action/Excitement: Car chases, battles, ticking clocks.
SOME OF OUR FAVORITE THINGS
BOOKS: Serpent and Dove, This Savage Song, The Hating Game, Ninth House, This Mortal Coil, Red White and Royal Blue, ASOWAR, Legendborn, We Set the Dark on Fire, The Hunger Games, Where Dreams Descend, Hawksong, An Enchantment of Ravens, Daughter of Smoke and Bone,
MOVIES: Mr. and Mrs. Smith, Armageddon, Miss Congeniality, Independence Day, Jurassic Park, Thor: Ragnorok, 10 Things I Hate About You, The Mummy, Hook, The Day After Tomorrow, A Knight's Tale, This Means War, Kate and Leopold, School of Rock, Serendipity, Pride and Prejudice
TV: Orphan Black, Schitt's Creek, Ted Lasso (Roy and Keely are LIFE!) The Witcher (esp episodes with Jaskier), New Girl, The Good Place, Psych, Downton Abbey, North and South
(Common features? High concept, character-driven, fast-paced, witty dialogue, memorable characters/lines, romantic elements, smart humor)
ROMANTIC ELEMENTS (Just going to keep emphasizing this!): Do you have a SciFi with a duo like Roy/Keeley from Ted Lasso? A fantasy with the bantery swoons of Red White and Royal Blue? An adventure tale that young Brendan Fraser could have starred in? We need it!
WE'RE NOT THE BEST FIT FOR:
Quiet/Purely Contemporary Stories: (Unless there's a super unusual concept/setting, or it tiptoes real close to speculative.)
Horror: Fantasy with some horror or horror-adjacent elements is fine, but if your book would primarily be categorized as horror, we're probably not the best fit.
Alpha-hole love interests: We enjoy an angsty grump, but we're not a fan of abusive jerks who are cruel to everyone except the MC they find attractive. A tragic backstory and good hair aren't enough to redeem a puppy-kicking genocidal megalomaniac and we don't enjoy toxic relationships portrayed as romantic.
(TW) Graphic on-page SA/abuse: We're fine with characters who've endured abuse in the past or references to events that are mostly off-page, but we are not the right fit if your book features graphic scenes of rape or sexual assault, especially if it occurs to a secondary character merely as a plot device to motivate a male main character (ie, FRIDGED female chars) and ESPECIALLY if the victims are children.
Grimdark/Unadulterated Gloom: It's not you, it's us. We need a bit of light in the dark. Feel free to kill off characters, break our hearts, or conjure wicked monsters, as long as there are flashes of humor or joy to balance it out.
FINAL THOUGHTS FROM A FORMER MENTEE (Hi, it's me, Emily!)
When I got into PitchWars, I thought it was my golden ticket, but my PitchWars book, along with the next book I wrote and revised through another mentorship, both ended up trunked, and I know that sounds depressing, but I would not change a thing. I mean it! we're a stronger writer, a tougher person, and a much better friend than I might have been if the stars had aligned earlier, plus I ended up exactly where I want to be, with exactly the right book and exactly the right agent and editor, which wouldn't have happened if I hadn't run into some hurdles along the way.
So, whether your manuscript gets chosen or not, you are the one who decides how to use each moment to further your goals. It's never too early, and it's never too late to reach for your dreams. Give your best effort, keep learning and striving, and keep your eyes on your own paper! Keep writing, friends!
Pitch Wars 2021 Young Adult Mentors' Wish Lists

Click here to view all Pitch Wars 2021 Mentors' Wish Lists. To view the wish lists by genre, visit this link.